In recent years, the beauty industry has become a place where artificial intelligence meets makeup.
So, it's not much of a surprise that AI technology has taken it a step further when it comes to delivering state-of-the-art, personalized experiences for shoppers in the form of virtual makeup mirrors!
Be it a brick-and-mortar store integration or an omnichannel approach, these pinnacles of technology are leading the charge when it comes to revolutionizing the beauty game and providing a seamless and accurate virtual try-on experience.
So, let's dive into the ins and outs of AR and virtual makeup mirror technology and see how it can help your brand secure a top spot in the ever-evolving beauty industry!
What is a virtual makeup mirror?
---
As the name itself suggests, a virtual makeup mirror can be described as an interactive beauty mirror that, with the help of AR and AI technologies, provides users with a unique try-on experience.
The AI mirror technology provides a real-time digital simulation, where consumers can virtually explore as many shades and products as they want, without needing to physically apply them.
So, no matter where in the world they are, all your customers need to do is simply hop on their phones or laptops (or use an interactive beauty mirror inside the store) and quickly try out their desired products without much hassle.
This, in turn, does wonders for cosmetic brands worldwide.
Not only does it help increase product coverage, but it can also significantly boost engagement and skyrocket your sales.
The AR beauty technology will not only save customers the time they would normally spend browsing the store to find the right products, but it will also let them try out more products in a shorter period of time.
Using analytics, an interactive beauty mirror does so much for the consumer.
It suggests the most suitable cosmetic products, it's super convenient, and it keeps them engaged while adding an element of novelty and fun, all of which can help your brand stand out from competitors.
And since 59% of consumers have stated that they would be much more prone to purchase a product that's visualized through AR, it would only make sense to see whether AI makeup mirrors are really worth the fuss.
(Hint: they absolutely are).
Key use cases of virtual makeup mirrors
---
Retail store integration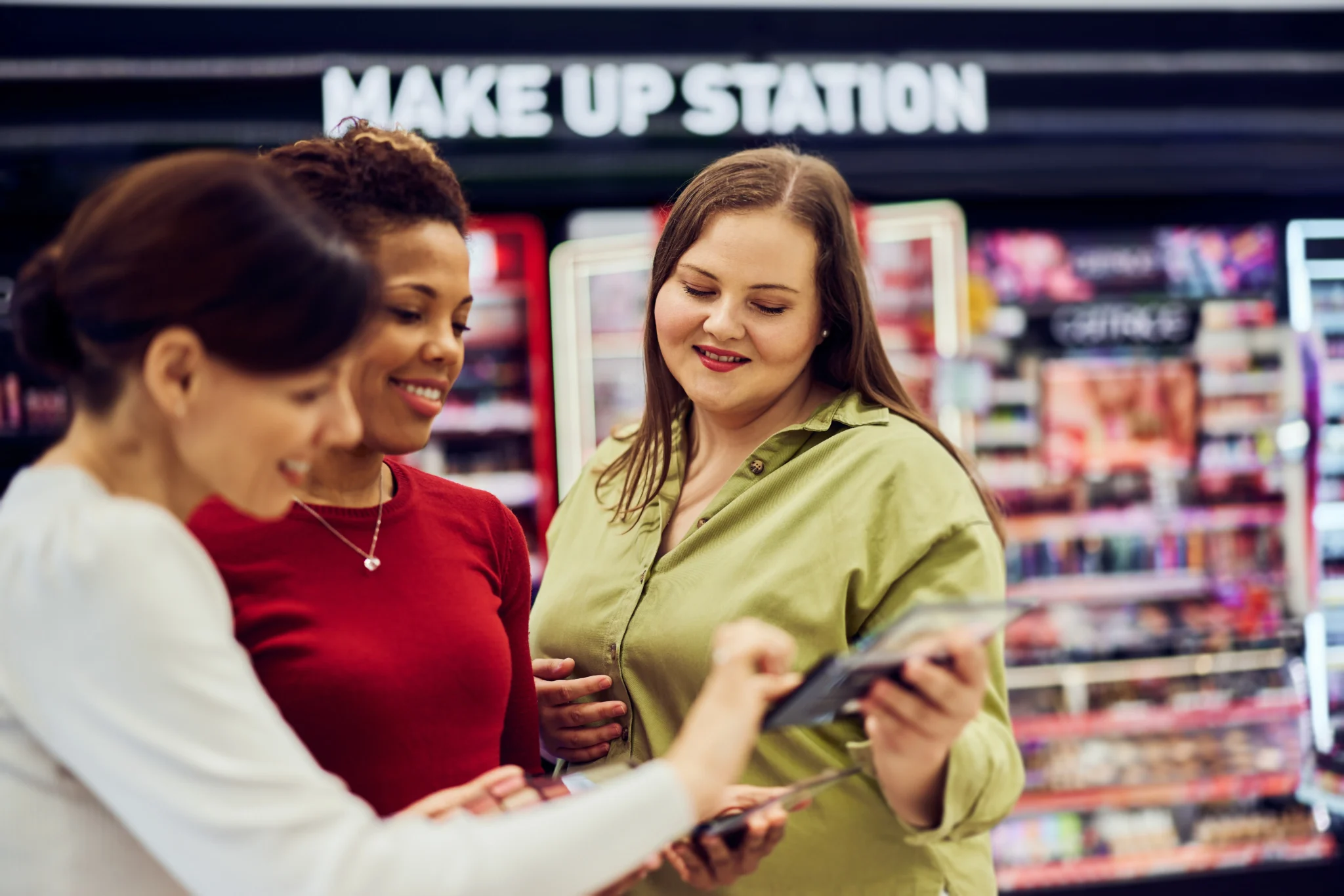 It's as simple as installing smart mirror technology into your retail store, thus letting your customers explore and try out various products, completely eliminating the hassle of the more traditional ways. This will add to the whole in-store experience while reducing the need for direct product contact.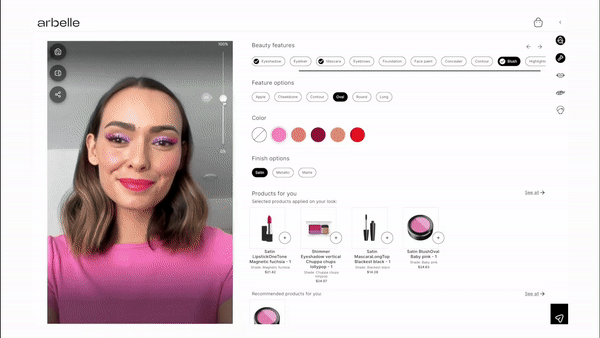 Why not integrate virtual makeup mirrors into your e-commerce platforms? This will make for a fun, interactive, and convenient online experience that allows users to try before they buy, and all that from the comfort of their own homes. Who wouldn't want to explore a vast array of beauty products without having to move a muscle?
A new take on a style assistant
Make the process of finding the right shades and products that much easier with a pre-set look! That way, those who are less makeup-savvy can find their perfect look with so much ease.
Personalized recommendations
Did you know that, thanks to AI's incredible learning capabilities, smart makeup mirrors can perform a quick skin tone and facial feature analysis, and use it to recommend optimal makeup products for each individual?
AR ad campaigns
And finally, you can consider announcing your brand-new products before they're even live yet, with credible, true-to-life AR filters, that will surely attract a whole new set of customers.
Advantages of virtual makeup mirrors
---
Interactive, engaging, and immersive experience
The number one benefit of an AI makeup mirror is the second-to-none experience it provides. Be it real-time experimentation, exploring with zero constraints, or infinite choices, smart makeup mirrors offer a personalized approach to each and every consumer.
And in this digital revolution era, that makes all the difference. People are becoming less interested in one-size-fits-all products and are on the lookout for a more personalized approach, and that is exactly what the interactive beauty mirror technology offers.
Eco-friendly testing
Let's not forget about the importance of maintaining an environmentally friendly approach when it comes to beauty. With virtual makeup mirrors, there is essentially no need for disposable applicators, which leads to inevitable waste reduction! Augmented reality is leading the way in wiping out the need for makeup testers and investing in much-needed eco-friendly testing.
Customized product suggestions
Who wouldn't want to receive completely personalized makeup suggestions as they're browsing through their favorite products online? Thanks to cutting-edge technology, your customers can now easily find the perfect shade of lipstick and the suitable eyeshadow colors, without having to apply and wipe off products from their faces.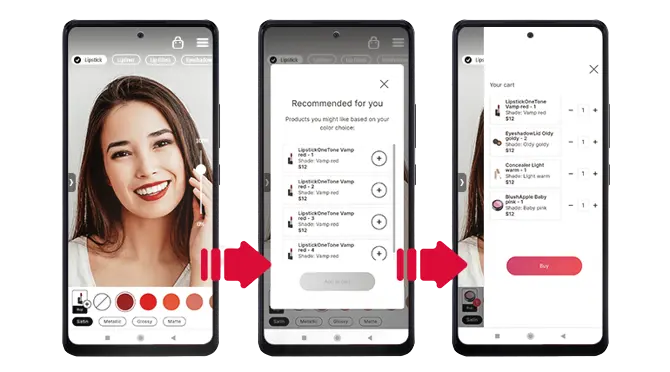 Why are virtual makeup mirrors essential for your beauty brand?
---
1. Enhancing brand engagement
---
Sure, AR mirror technology is a fantastic new tech feature that is sure to keep your customers engaged in a fun, innovative way.
But it's also so much more than that.
The smart makeup mirror has the ability to deepen and enrich the brand-customer relationship by turning your casual visitors into a loyal customer base!
How?
By providing a unique, seamless, and, most importantly – personalized shopping experience.
It allows customers to see how different products would look on their particular skin type, which can make all the difference for those with sensitive skin who likely struggle to find the right shade as it is.
Essentially, it's all pros, no cons.
2. Driving sales with confidence
---
What happens when customers are able to try a product before actually buying it?
It enables them to shop with confidence, which, in turn, leads to reduced return rates, and – you guessed it – increased sales!
Online return rates are known to reach up to a staggering 30%, which inevitably results in significant revenue loss for beauty brands. It's not unusual for buyers to return products that, sadly, don't turn out as they expected.
Luckily, virtual makeup mirrors are here to save the day!
This means your customers can try out 30 shades in 30 seconds – something that can only be achieved in the AR world.
This makes them not only beneficial to consumers but to beauty brands as well!
3. Staying ahead in the beauty industry
---
In this ever-evolving industry, staying ahead of the curve is not an option, but a necessity.
Brands that have chosen to invest in the power of AI and AR, through solutions like Arbelle, are undoubtedly setting themselves up for success.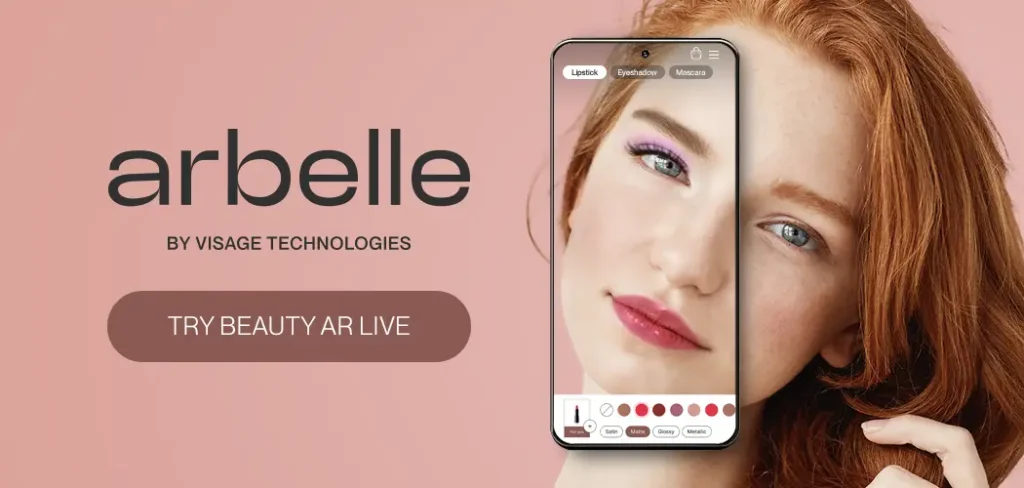 This type of forward-thinking is what will set them apart from the competition in the long run. Because one thing's for sure – virtual makeup mirrors are here to stay.
They make all the difference when it comes to online makeup shopping, boosting loyalty, engagement, and satisfaction rates!
The impeccable AR technology, its refreshing accessibility (in-store or on mobile) and the selfie camera experience are what will help brands leave their footprint in this digital evolution.
Arbelle: A leader in the beauty realm
---
In the thriving virtual makeup try-on space, Arbelle stands out as a top solution, providing an interactive, personalized makeup experience for every customer on their favorite platforms.
What sets us apart is precision in creating realistic virtual representations of physical products.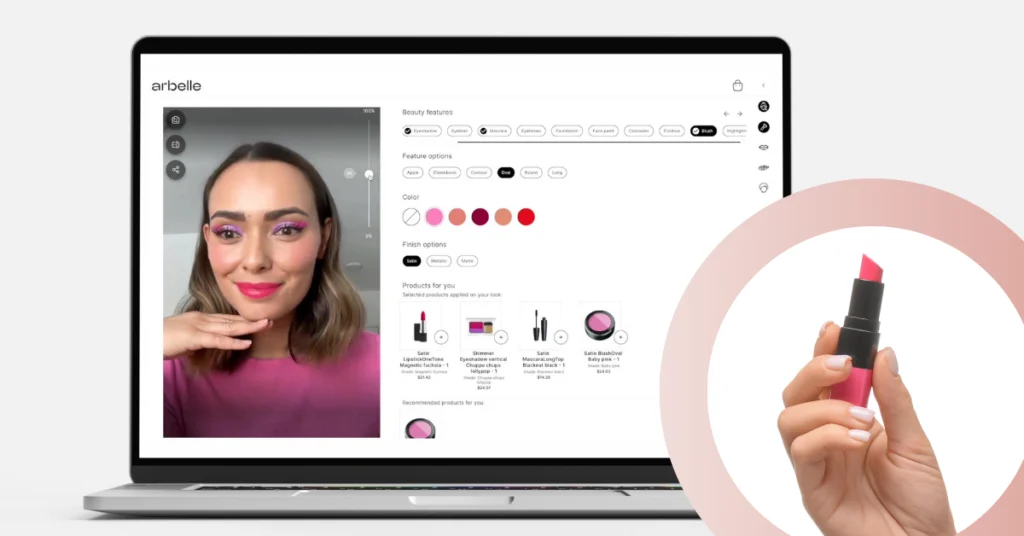 It gives consumers an ultra-realistic experience that helps them make a smart, educated purchasing decision that they're unlikely to regret.
Thanks to our AI and AR technology, customers can practically 'wear' your products, feeling confident in their appearance as well as your brand, before deciding whether to purchase.
According to a study by Salesforce, a whopping 90% of customers believe the overall shopping experience a company offers is equally important as its products and services. And with Arbelle, that's exactly what you can count on!
Our cutting-edge AI mirror technology can help you redefine your brand and position yourself as a leader in the industry.
With a virtual makeup try-on, customers can play with various makeup looks at their convenience. And with just a few clicks, they can explore a whole array of products that would otherwise take up a huge chunk of their time.
So, if you'd like to put this revolutionary technology to the test, by all means, reach us anytime! We'd be happy to help you take your brand-customer relationship to a whole new level.
Uncover the transformative power of beauty AR
---
The emergence of virtual makeup mirrors, led by AR and AI technology, is signaling a brand new era in the beauty industry.
As customers are becoming increasingly more inclined to rely on tech-integrated experiences, it's completely up to beauty brands to choose whether to adapt or stick to their guns.
With the ability to completely redefine beauty shopping, AR makeup mirrors offer a pathway for brands to not just keep up, but step up their game in this digital age!
So, if your beauty brand is ready to recognize the importance of a virtual try-on and provide a seamless beauty shopping experience for your customers, we're here to help you get started.
Get in touch with us anytime, and we'll help you build the best possible AI beauty solution.
Get started with Arbelle
Contact us today and we'll help you create the optimal beauty AR experience for your app, website, or smart mirror.