The beauty industry has witnessed a remarkable transformation with the advent of virtual makeup.
This innovative technology has revolutionized the way consumers shop for beauty products, offering them an immersive and convenient way to try on different makeup looks and experiment before making a purchase.
And in this article, we'll explore what virtual makeup exactly is, how it works, and why it's become so essential for beauty brands. Read on!
What is virtual makeup?
Virtual makeup refers to the digital representation of beauty and makeup products. And as the name itself suggests, it enables users to apply different makeup products to their faces virtually. Or, to put it more simply – consumers can try the makeup on virtually, i.e., online through their computer, smartphone, or in-store mirror instead of putting on the actual, physical products.
Here's how it's done:
How does virtual makeup work?
Virtual makeup works by harnessing face tracking and 3D rendering technologies to deliver an immersive and seamless experience.
Arbelle, for example, our AI-powered virtual makeup try-on, uses advanced face-tracking capabilities that can track your face in real-time, detecting over 100 facial points. This robust tracking system is the foundation of a virtual makeup try-on, ensuring that virtual cosmetic products, such as eyeshadow or lipstick, remain accurately and precisely positioned even when you move your head.
The result is a mirror-like experience that requires minimal user input. By simply activating your camera on your preferred device and platform, whether it is iOS, Android, or HTML5, you can see what the products look like on you in real time.
You get highly faithful representations of beauty products, including their color shades, textures, finishes, special effects, dimensions, and all other essential features.
Types of virtual makeup products
Virtual makeup encompasses a wide range of beauty products, allowing users to experiment with various looks and styles. Here are some of the most common types of products available:
1. Virtual lipstick, lipgloss, and lipliner
With virtual lipstick, lipgloss, and lipliner, your customers no longer need to waste time at the makeup counter trying on countless lip products to find the perfect shade. Instead, they can simply use their phones or computer cameras to try on an array of lip colors and finishes instantly. And all in a matter of minutes – or less!
Your customers can easily try on 10 shades in 10 seconds and experiment with different finishes or new product lines. Just imagine how many new products they could discover this way!
For example, Arbelle has a unique glitter finish that will wow your customers and let them take their makeup game a step further.
They can confidently experiment with styles and mix and match shades with a simple click or swipe of a finger. And with this seamless, hygienic, and quick virtual solution, there will be no more buyer's remorse but only more buyers!
2. Virtual eye makeup (eyeshadow, eyeliner, mascara)
Virtual eye makeup gives your customers the ability to experiment with different eyeshadow shades, eyeliner styles, and mascara effects. They can effortlessly explore a plethora of options without the need for physical application or the risk of smudging.
With Arbelle, they'll be able to experiment with a one-of-a-kind eyeshadow glitter finish that will undoubtedly make their eyes pop and leave them feeling beautiful. And the best part is that we can further customize this feature when it comes to coverage or different eyeshadow patterns and particles.
So, from natural everyday looks to bold and glamorous statements, virtual eye makeup empowers your customers to visualize and compare endless combinations until they find the perfect style that resonates with their unique personality. And ultimately, you'll be helping them make informed purchase decisions confidently and effortlessly.
→ Check out some of the virtual eye makeup features in Arbelle, such as our unique glitter finish:
3. Virtual foundation, concealer, and contour
With virtual tools like Arbelle, your customers can say goodbye to the struggle of finding the perfect shade match or dealing with a cakey foundation. Because virtual foundation, concealer, and contour tools are your secret weapons to providing an amazing shopping experience.
Your customer can seamlessly find the perfect concealer that will help them achieve a fresh and bright-eyed look and hide any imperfections or dark circles. And we all know how hard that search can be for your customers. So, why not make it easier for them – and for your brand – and incorporate a virtual makeup tool!
4. Virtual eyebrow makeup
With virtual eyebrow makeup, your customers can shape, define, fill in their eyebrows, and choose from a range of eyebrow shades to achieve the brows of their dreams. And with technology such as Arbelle, you'll empower your customers to find the perfect brow shape and color and achieve a natural and flattering result in no time!
5. Virtual blush makeup
Want to help your customers discover the perfect blush for their cheeks without the hassle of physical blush application? Try it with our virtual blush makeup tool Arbelle! With just a few taps, your customers can explore a world of blush shades and finishes to find the right match for their skin tone and desired look and achieve a natural, healthy radiance.
→ Here's how to create a full look with Arbelle:
Why is a virtual try-on essential for your beauty brand?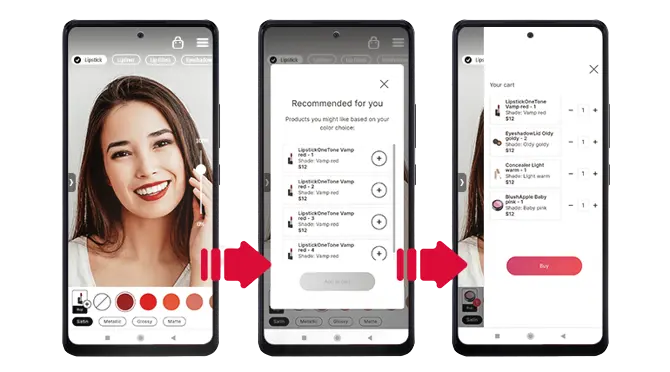 Virtual makeup try-on has become an essential tool for beauty brands for several reasons:
Virtual try-on offers customers an engaging and interactive experience, allowing them to explore a wide range of products and experiment with different looks. It creates a virtual beauty counter accessible to anyone, anytime, enhancing the overall customer experience. And a study by Salesforce confirmed that to nearly 90% of customers, the experience a company provides is just as important as its products and services.
By trying on virtual makeup, customers can see how products will actually look on them before making a purchase. This helps alleviate the uncertainty and guesswork associated with buying cosmetics online, increasing confidence and reducing the likelihood of product returns. Research shows that if you use a virtual try-on solution, you can experience 64% fewer returns.
Virtual makeup try-on can leverage data and algorithms to provide personalized recommendations based on the user's preferences, skin tone, and facial features. This level of customization enhances the user's shopping experience and increases the likelihood of finding products that truly meet their needs. And research has shown us that 76% of consumers are more likely to purchase when provided with personalized recommendations.
Virtual try-on eliminates the need for physical testers and samples, reducing costs associated with product manufacturing and store displays. According to studies, the beauty industry is one of the biggest waste contributors, producing a staggering 120 billion packaging units a year. And virtual makeup is here to help minimize that waste and contribute to sustainable practices within the beauty industry.
Discover the transformative power of virtual makeup
By harnessing augmented reality and advanced algorithms, virtual makeup offers a convenient and immersive experience, allowing users to try on various cosmetics without the need for physical application.
From virtual lipstick and eye makeup to eyebrow makeup, blush, and foundation, the possibilities are endless.
And beauty brands that recognize the importance of a virtual try-on have nowhere else to go but up. So, join in quickly, embrace this transformative technology, and start your way up to success.
Get in touch with us today, and we'll help you get started!
Get virtual makeup today
Unlock the potential of a virtual makeup try-on and let your beauty brand thrive.