The beauty industry, traditionally rooted in personal touch and expert consultations, has embraced the digital age with fervor, leading to the rise of numerous beauty technology companies.
With the increasing prevalence of artificial intelligence (AI), augmented reality (AR), and advanced beauty devices, the boundaries of the beauty realm have expanded.
And in this article, we'll provide an overview of the current beauty tech innovation trends and spotlight the top beauty technology companies leading these trends in 2023.
Beauty AR & AI
The digital era has blurred the lines between the real and the virtual, with augmented reality and artificial intelligence finding their place in the beauty domain.
And the trend today is all about virtual try-on solutions, with Arbelle by Visage Technologies leading the pack among the top beauty technology companies. This state-of-the-art AR makeup solution recreates realistic virtual representations of real-life makeup products.
Leveraging AI, Arbelle delivers an interactive makeup experience tailored to each user, powered by groundbreaking FaceTrack technology. Detecting over 100 facial points, the technology ensures an unparalleled AR makeup fit in real-time, mimicking the precision of a physical mirror.
This trend of virtual try-ons has already revolutionized the cosmetic shopping experience. No longer do consumers need to rely on physical testers. Instead, they can virtually experience products, allowing for better decision-making and reduced product wastage.
And Arbelle, a top-notch AI and AR-powered makeup solution, offers consumers a fully immersive, ultra-personalized beauty shopping experience, giving them a realistic impression of how a particular product or look might suit them.
And it's exactly this experience that will ultimately lead to increased sales. How is that? Well, research has shown that customers who use virtual try-ons are 2.4 times more likely to make a purchase. What's more, your customers will be much more confident when buying your products, and you will undoubtedly experience much fewer returns. According to studies, brands that use beauty AR and virtual try-ons experience 64% fewer returns. 
Beauty devices
Modern skincare has transcended the standard and simple creams and serums. In recent years, the global emphasis on skincare has birthed an array of beauty devices designed to enhance product efficacy and provide salon-like results at home.
And among them, Foreo, a Swedish beauty tech company with its range of luxurious beauty gadgets, has already etched its name in the industry. Known for their pioneering beauty solutions and ground-breaking facial cleansing brushes, Foreo has become a household name in skincare. Their devices utilize T-Sonic pulsations, which gently exfoliate dead skin cells and unclog pores. The latest addition to their line, UFO (Ur Future Obsession), is a smart mask treatment device that combines advanced dermal technologies with exclusive Korean mask formulas for a decadent facial treatment in seconds.
However, it's the Droplette Microinfuser that's capturing a lot of attention in 2023. Born from the ambition to make effective skincare painless, Droplette uses a micro-mist smart infuser to revolutionize product application. By merging technology with skincare, Droplette's device enhances ingredient effectiveness by a staggering 90%, allowing products to penetrate 20 times deeper at the molecular level.
Furthermore, EvenSkyn, a DTC skincare device startup, brings professional-grade handsets to the masses. Devices like their LED facemask are reshaping the face of home-based skincare solutions, focusing on anti-aging, anti-wrinkling, hair removal, and facial cleansing.
3D printing makeup
In a world that champions personalization, 3D printing makeup is the next logical step. This trend empowers consumers to design and create makeup shades tailored to their preferences. Mink is the forerunner in this space, pushing the frontiers of personalized makeup.
Known for introducing the world's first 3D makeup printer, Mink is truly an innovator in the beauty tech space. This device lets users select any color from their smartphones or the web, and then it prints that color into a cosmetic product like lipstick, eyeshadow, or blush right at the user's home. It's an exceptional example of how technology can offer unprecedented customization capabilities to consumers.
This technology has shifted the power dynamics of the beauty industry, providing individuals the tools to be their own makeup manufacturers, ensuring that their makeup is as unique as their personality.
AI-based haircare
Addressing the textured hair community's nuanced needs, MYAVANA brings futuristic haircare solutions to the forefront, fusing technology and personalized haircare.
Debuting their tech at the 2023 CES in Las Vegas, they've taken Andre Walker's Hair Typing System up a notch by introducing a unique HairID for each individual. This system identifies all the various textures and types within an individual's hair, providing bespoke solutions for each texture. Additionally, their Hair Strand Analysis Kit presents a meticulous, healthy hair care plan. This kit scrutinizes hair strands in a lab, analyzing factors like the hair's porosity, elasticity, density, and overall health, ensuring that the care provided is scientifically backed and tailored.
Beyond this, MYAVANA boasts virtual consultations from a panel of Healthy Hair Experts, bridging the gap between tech and personalized hair care.
Smart mirrors
Mirrors have always been integral to the beauty routine, but the advent of smart mirrors has elevated their significance. They don't just reflect but also analyze, advise, and educate.
Among them, Zmirror by ICON.AI stands out. Bagging a 2020 CES Innovation Award, this South Korean innovation doesn't just show your reflection – it analyzes it. It tracks skin progress over time, offering tailored product recommendations. And further enhancing the user experience, the integrated speakers and video display within Zmirror provide easy access to makeup tutorials, allowing users to watch them and seamlessly follow along.
HiMirror is another standout in the realm of smart mirrors. Going beyond basic reflection, HiMirror employs advanced skin analysis tools to provide real-time evaluations of a user's skin health, detailing aspects like fine lines, clarity, and other imperfections. By doing so, it offers personalized skincare recommendations to tackle specific concerns, ensuring users receive advice tailored to their needs. Furthermore, it integrates with smart devices, becoming a hub for beauty tutorials, weather forecasts, even news, revolutionizing traditional morning routines.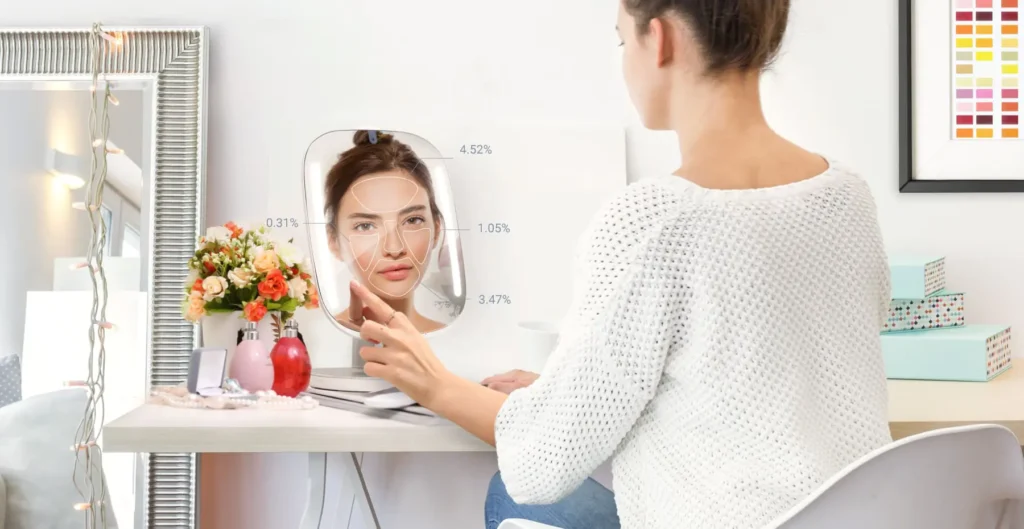 Embrace new technology in the beauty industry
In sum, 2023 stands as a testament to the unbounded possibilities when technology intertwines with beauty. These beauty tech companies, with their innovations, are sculpting a future where beauty is not just skin-deep but also tech-deep. Which only proves that when technology and beauty converge, the possibilities are endless.
And as these trends continue to evolve and grow, we can look forward to an even more tech-driven beauty industry in the coming years.
If you, too, want to be part of this growth, don't hesitate to reach out to us and find out how our beauty AR can boost your beauty brand!
Reach out to us today
Ready to redefine your brand's beauty journey with cutting-edge technology? Connect with us today, and let's shape the future of beauty, together!