Over the past few years of living in a virtual-first world, we've seen the rise of e-commerce and social commerce, which has greatly impacted how customers engage with beauty products.
Sure, shopping in a store does come with its perks, but the truth is – nothing beats the convenience and accessibility of an online beauty experience.
With technology reaching its peak, these days, it's all about creating a blended customer experience by bridging the physical with the virtual world.
This is a surefire way for your customers to feel closer to your product while your engagement rates skyrocket.
So, if you want to keep up with these newfound consumer expectations and stay ahead of the curve, it's time to leverage the power of beauty AR and start breaking boundaries in the beauty sector.
In this article, we'll explore the undeniable benefits of phygital beauty, and help you bridge the gap between online and offline beauty experiences.
What's happening with the consumer landscape?
There's no denying that due to the ongoing digital advancements as well as ever-evolving consumer behavior, the beauty industry is experiencing some major changes.
We're seeing a rising demand for a more personalized beauty shopping experience and authenticity, leading to beauty brands trying to find ways to adapt and meet consumer expectations.
It's been reported that as much as 57% of beauty consumers make sure to research a product online before deciding whether or not to purchase it in-store, which is also known as the ROPO effect (research online, purchase offline).
This only goes to show the increasing reliance on online platforms when it comes to beauty research and shopping.
It can be argued that competition is now fiercer than ever, so adapting to these changes should no longer be just an ambition. Beauty brands need to harness technological advancements to deliver seamless shopping experiences across all platforms.
So, how exactly can brick-and-mortar stores stay relevant in the digital era?
By learning to adapt to these ever-evolving changes, joining the digital revolution, and creating a more connected, interactive environment for the consumer.
The shift from physical to phygital
Over the last two decades, there's been a massive shift in the beauty industry.
Offline beauty shopping, i.e. shopping in-store has slowly taken a back seat while online beauty experiences have taken the world by storm. And it's no surprise.
While the beauty counter may have been the shopping staple in many department stores, the beauty industry has progressed significantly, and with it, the needs of your customers.
Limited shopping time, lack of reviews, and the possibility of feeling judged (due to the lack of knowledge of a certain product, etc.) are just some of the reasons why beauty enthusiasts have embraced the digital realm.
It's convenient and easily accessible, and with the emergence of phygital beauty, it now has all the sensory and interactive aspects of an in-store purchase.
But what is phygital beauty exactly? Let's dive into it!
What is phygital beauty?
Simply put, phygital beauty refers to the blended customer experience where the physical and digital elements of a shopping experience are seamlessly integrated.
It effortlessly bridges the gap between online and offline beauty channels by combining the accessibility of e-commerce with all the interactive aspects of visiting a store.
Therefore, investing in cutting-edge AI technologies is a proven way for beauty brands to cater to their customers' preferences while offering a shopping experience that leaves nothing to be desired.
These should not be competitive environments, though, where it's offline vs. online. A joined-up approach is the way to go!
This blended strategy will provide the best of both worlds while offering an enhanced customer experience that is sure to boost loyalty to your brand.
It focuses on leveraging technological advancements, such as beauty AR and state-of-the-art AI solutions, like virtual make-up try-ons to provide a unique, personalized experience, which helps consumers feel more connected to a product or brand.
Case in point; customers that use virtual try-ons are said to be 2.4 times more likely to make a purchase.
It's obvious, therefore, that embracing phygital strategies provides various benefits for beauty brands and the cosmetics industry, and here are some of the main ones.
➢ Benefits of phygital beauty
For starters, it can help bridge the gap between tactile and virtual interactions. How? By allowing your customers to experiment with different make-up looks without the hassle of having to physically put on and remove said make-up. Taking full advantage of augmented reality (AR) and virtual reality technologies makes it so much easier to offer an immersive shopping experience while helping your customers make the best possible decision.
On top of that, with phygital beauty, comes increased personalization that your customers are undoubtedly craving. By going phygital, beauty brands are in the perfect position to provide completely personalized recommendations based on vital factors such as skin tone, individual likes and dislikes, and of course, any possible concerns.
In addition to that, there are online beauty advisors and chatbots that can come in handy with real-time assistance, which in, turn, only elevates the customer experience and helps them forge an even deeper connection to the brand.
Now, we all know that boosting brand loyalty and customer retention is one of the most important goals for any brand. And with this immersive and unforgettable beauty experience, that's exactly what beauty brands can count on! Engaging with the customer base in both offline and online spheres helps strengthen those brand-customer relationships, which, in turn, cultivates a hyper-loyal client base.
And finally, with phygital solutions in place, understanding customer behavior is easier than ever due to the valuable data insights that come with it. There are many ways beauty brands can leverage data analytics to learn more about their customers' preferences and purchasing patterns, which can be a helpful tool in terms of elevating marketing strategies and delivering tailor-made experiences.
Implementing phygital strategies
Now, when it comes to phygital strategies, there are two ways you can implement them: by creating immersive online experiences with a virtual makeup try-on or by introducing AR to physical stores.
With Arbelle, you can do both! 
Our cutting-edge AI technology helps create realistic virtual representations of real-life makeup products, thus enabling you to provide an unmatched shopping experience for all of your customers.
Here's how.
➥ Virtual makeup try-on
With our AI-powered virtual make-up simulator, your customers will have a tailor-made shopping experience, while having so much fun trying things on.
With Arbelle, you are getting a realistic, customizable, and intuitive make-up try-on that will look nothing short of amazing in real time due to our top-notch face-tracking.
More precisely, Arbelle harnesses the power of FaceTrack by Visage Technologies – proven face tracking technology that tracks over 100 facial points. This makes trying on AR makeup look and feel almost like you're looking in an actual mirror!
And the best of all is you can have it on a tablet or mobile phone, in the form of an app, or on your web, as part of an immersive shopping experience.
Whichever of these platforms you'd like to try it out on, you can always reach out to us!
➥ Introducing AR to physical stores
Another way you can leverage phygital beauty? Introduce it to your physical store! This only makes sense considering that over 90% of Americans currently use or would consider using AR for shopping.
So why not let augmented reality lead the way?
This is an incredible opportunity for your cosmetic brand to surprise your customers and explore all the possibilities and advantages AR brings!
For example, smart mirrors and tablets can replace physical testers in your stores, which will inevitably result in superior user experience, better hygiene, and let's not forget – lower costs due to eliminating the need for physical testers!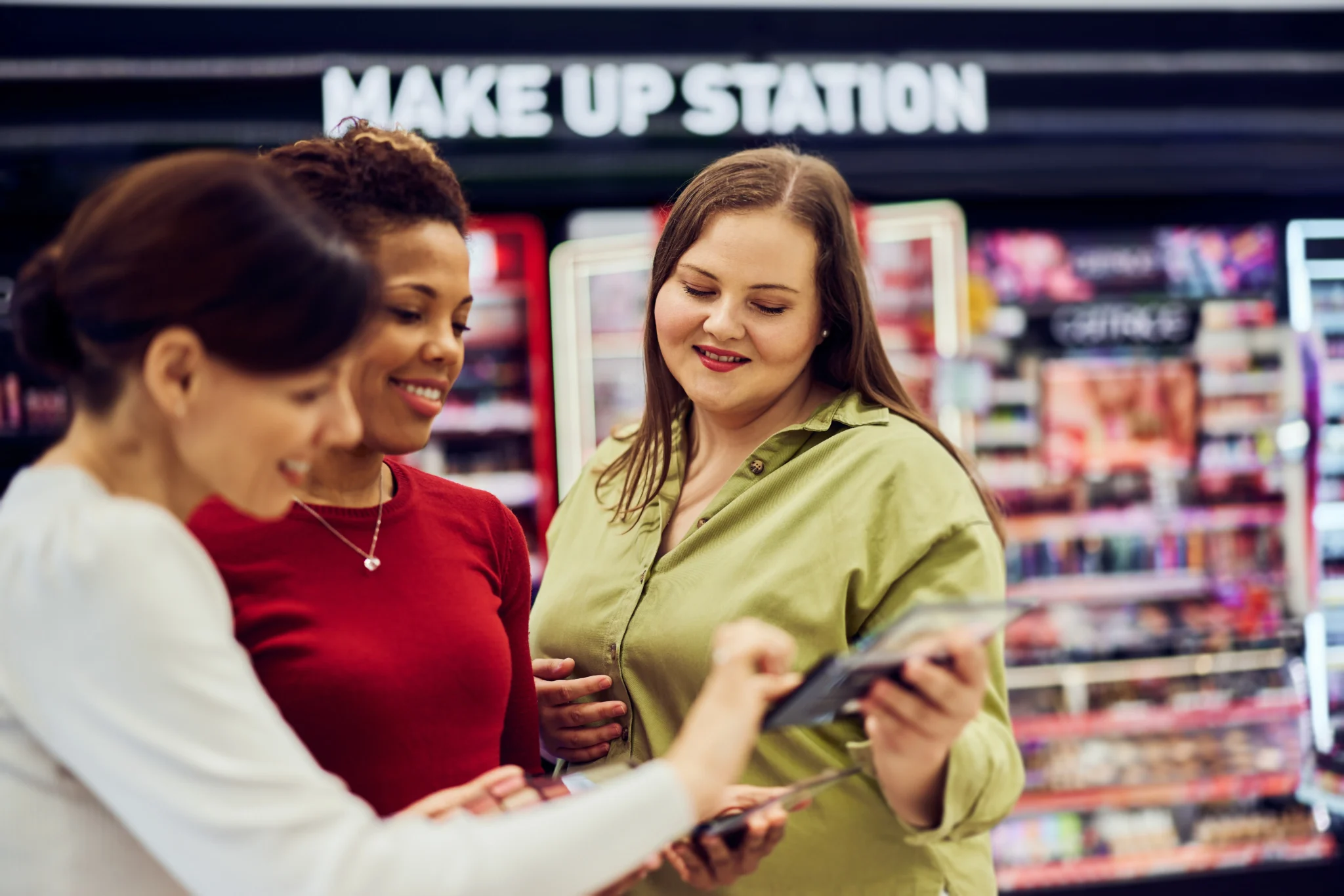 On top of that, introducing QR codes is another excellent way to streamline the process in a smooth, frictionless manner. It's more private (therefore likely to appeal to your consumers) and with virtually no limit to the information you want to share with them.
In an AR store, shopping truly takes on a whole new meaning.
It turns into an immersive virtual experience for customers where they can try out a variety of bold new looks all while socializing (through video chat), playing games, and creating a whole new online community!
More to the point, according to data from Snapchat's 2022 Generation Report, 92% of Gen Zers are inclined to use augmented reality for shopping, with a whopping 88% of them wanting to use AR for clothes and make-up try-ons.
The younger generations are leading the way toward a new, AI and AR-powered future. It might be time to join them.
With Arbelle, you can choose to integrate the AR makeup technology yourself, or you can count on our incredible custom development team with over 20 years of hands-on experience to handle it for you!
Future trends in phygital beauty
One thing's for sure. Phygital beauty is taking the beauty industry by storm and cosmetic brands are becoming increasingly more tech focused.
Beauty giants like Tarte Cosmetics, Estée Lauder, L'Oreal, Covergirl and Aveda have all stepped into the metaverse and are capitalizing on the newfound digital demand by taking full advantage of AI and AR.
Here's how some of them did it.
After introducing virtual try-on which allowed their customers to try out various make up shades, Tarte Cosmetics' sales saw a gigantic 200% increase!
Similarly, the introduction of their hyper-realistic hair color try-on tool brought Aveda's website traffic to new heights, with a massive 112% spike in how much time customers spent on their web.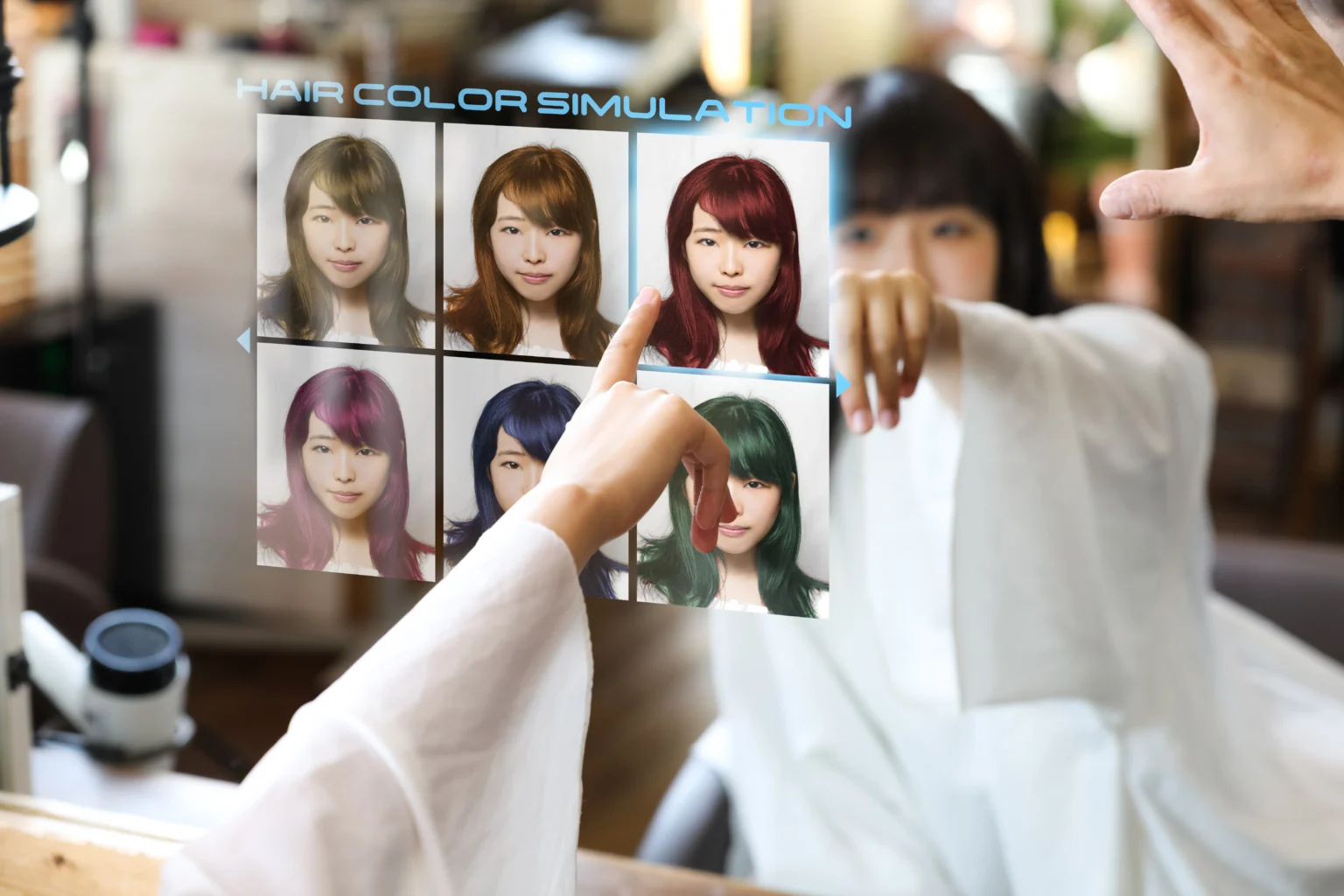 Also, according to Sowmya Gottipati (Estée Lauder's Vice President of Global Supply Chain), shortly after introducing an AI app for their supply and demand planning, the brand's forecasting accuracy increased by as much as 30%!
And we know that the higher the accuracy, the higher the profit margins!
Numbers don't lie.
As brands look for new ways to connect with their consumers, the evolution of phygital beauty is already producing tangible results. The potential for AI and machine learning to keep driving revenue and profit growth is now bigger than ever.
It's all about customization and personalization. These are the staples of the ever-evolving beauty industry, and with more brands taking notice of AI and AR, we just might see these new digital beauty experiences leave the more traditional ones in the dust.
Embrace the digital future of beauty experiences
As beauty brands continue to evolve and look for new ways to stay relevant in this competitive industry, embracing the power of phygital beauty is proving to be the best way to stay ahead of the curve.
It's all about the unique, personalized experience that consumers crave.
And as we've already seen, not much compares to the simplicity and accessibility of augmented reality that caters directly to consumers' needs and preferences.
Clearly, embracing AI personalization is becoming less of a luxury and more of a necessity in this fast-paced digital world. And if you, too, are ready to embrace phygital innovation and see your beauty brand thrive, don't hesitate to get in touch!
Reach out to us today
Ready to redefine your brand's beauty journey with cutting-edge technology? Connect with us today, and let's shape the future of beauty, together!